Warranty & Specifications

Policy:
We view every purchaser as a friend and investor in our product. We are dedicated to making sure you are happy with your AutoGreenWash. We will do whatever we can to make our customers happy with our product and our service! This is not a public relations statement, it is the heart felt commitment of the founders and entire AutoGreenWash team.

Standard Warranty*:

During the first year it includes repair or replacement of any defective AutoGreenWash component; at the location were it was installed without cost to the owner for parts or labor.*

During the second year the warranty covers all parts.

Extended Warranty*:
Doubles the Standard Warranty.


Extends the complete parts and labor Warranty to 2 years,

Increases the parts warranty to 4 years.

Product Service during the first year includes*:
A poly seal detailing for one vehicle l (performed by an expert specializing in detailing the finniest most valuable automobiles).


Maintenance and replacement of all needed consumables including cleaning and rinsing agents, water and air filter media.


After the first year extended product service can be purchased


*The listed terms are current, but may be changed prior to purchase. This is a summary of key features, damage from misuse is excluded, see purchase contract for full details.



Specifications**:

Main Inclosure

Approximate Dimensions:

(Deluxe

AutoGreenWash

AGW2)

Length 22 ft.

Width 8 ft.

Height 7ft

Accommodate most vehicles up to 18 ft. long by 7 ft. wide.*


Larger or smaller custom units can be built to fit your specific needs.

Components:

All parts and materials are selected for highest quality and durability.


Preference is given to American parts and materials.


Curtain Enclosure

Transparent Mylar® (Mylar® is a registered trademark of Dupont ). Mylar® is very strong, durable, odorless, transparent, long lasting, and made in America. It is fire resistant, mildew proof, remains clear and does not yellow with age. It is the highest quality longest lasting sheet material.





Framework is made out of aircraft grade aluminum, manufactured in the U.S. Aluminum is light weight, strong, long lasting, and easily recycled.

Cable Systems: US made aircraft grade stainless steel. There are sixteen primary lifting cables, each capable of holding many time the weight of the entire AutoGreenWash unit.

Pulleys: Are stainless steel and self lubricating Nylon.

Fasteners and Connecters: Most are non-magnetic stainless steel ,aluminum, or zinc coated.

Mechanical Actuation: An American manufactured 1 HP motor and mechanical drive system provides movement. It includes electronic speed controls for a gradual and smooth start and stop. It has integrated speed, and self calibrating force monitoring controls.

Floor Perimeter: Is made from recycled plastic bottles and wood shavings. It is water proof and very durable. It is about 5 inches wide and less than one inch high. Its top edges are rounded and its top is textured, making it easy to see and safe to drive over or step on. It includes an imbedded string of LED lights that illuminate when your garage door is opened. This provides you parking guidance, and looks like the landing strip lights in the movie 2001 a Space .

Swisstrax tm floor tiles. These are the same tiles showcase the stage at Barrett Jackson auto auctions and are used in Jay Leno's garage. The manufacture guarantees these for 12 years.


Air Filters: Multiple HEPA micro fiber electrostatic filters to insure that the air born dust does not contaminate the vehicle.


Water Heater: A tank-less in line 97% efficient electric water heater is integrated into the AutoGreenWash system. This unit insures the water is the ideal safe temperature.
Made in America:

AutoGreenWash is manufactured, assembled, and installed by skilled American technicians.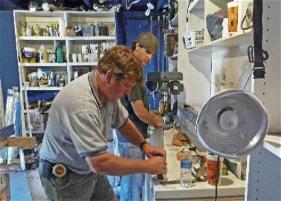 **All specifications are current at the time of this revision but are subject to change without notice, prior to your purchase.